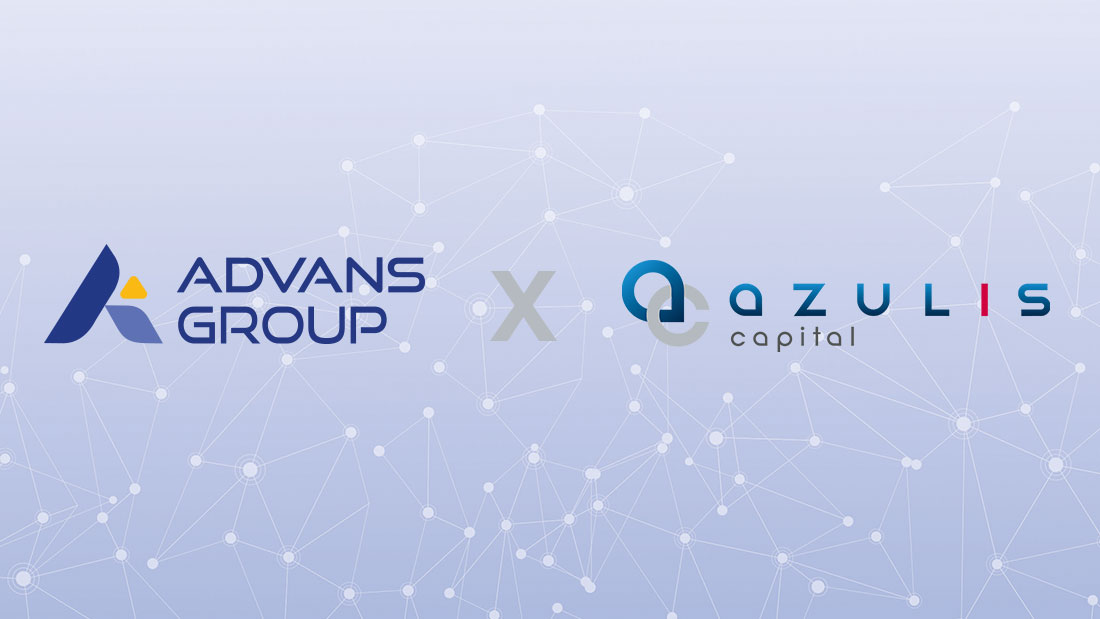 ADVANS Group Opens its Capital and raises €50 million
ADVANS Group, a services engineering group specializing in the fields of embedded systems, application software and mechanical design, brings Azulis Capital and around twenty managers as shareholders during a restructuring of its capital. On this occasion, it benefits from a €50 million financing. Press Release.
Paris, May 16th, 2023 – Founded in 2000 by Radomir Jovanovic, ADVANS Group is an outsourced engineering group specializing in three distinct and complementary areas of activity: embedded electronics with its subsidiary ELSYS Design, application software with AViSTO and mechanics with MECAGINE. The group has developed specific multi-sector know-how, with centers of excellence in the buoyant fields of semiconductors, energy and transportation.
From its design offices, its skills and service centers, or directly on customer sites, ADVANS Group supports major European and American industrial groups in very specialized technical projects.
With an organic growth of around 10% per year in recent years, including during the health crisis, ADVANS Group has demonstrated the solidity of its business model. The group achieved a turnover of €84 million in 2022 and employs more than 1,000 engineers. Present in France with 9 locations, the group has 3 technical centers in Serbia to serve international customers and operate in nearshoring for French customers. It also has a subsidiary in the United States and has recently opened a subsidiary in Portugal.
Substantial ressources to support an ambitious project
Radomir Jovanovic, CEO and Founder who until then held 100% of the capital, sells a minority stake of around 25%, by bringing in Azulis Capital, a French investment fund specializing in supporting SMEs and mid-tier firms. On the occasion of this operation, around twenty managers are also entering the group's capital. The CEO remains in control and, with more than 70%, retains a large majority of the capital. The reorganization of the capital goes along with a financing of EUR 50 millions.
ADVANS Group's ambition is to double its turnover by 2026. To achieve its objectives, the group can rely on the highly sought-after expertise of its engineers and is implementing a recruitment plan for 350 engineers within a year.
It also wishes to accelerate its development with a strategy of targeted external growth that would allow it to extend its geographic footprint and its range of skills.
No energy transition without electronics and software
ADVANS Group operates in very dynamic markets which will continue to drive its growth. On the one hand, the need for high-level technological expertise and the difficulties in terms of human resources lead large manufacturers to outsource their R&D, such as the design or testing of telecom equipment chips (deployment of 5G), etc.
On the other hand, reducing the environmental footprint cannot be achieved without innovation in electronics and software. ADVANS Group is thus working on many projects related to environmental transition, such as charging stations for electric vehicles, public transport powered by hydrogen energy sources, or even domestic equipment accumulating energy during the day to redistribute it in the evening during network load peaks. The group, whose two main subsidiaries are certified Ecovadis Gold and Silver levels, also intends to continue its CSR approach initiated several years ago.
Radomir Jovanovic, Founder & CEO, declares: "We approach this new period with enthusiasm. We are delighted to partner with Azulis, a French investor, entrepreneurial, knowledgeable in our sector, experienced in external growth and committed to keeping human relations at the heart of its strategy, with whom we share common values ​​in terms of ESG, and we thank the managers who entered the capital for their commitment, guaranteeing our excellence. This represents essential strengths to support our development ambitions, especially in terms of M&A, and to succeed in this new stage".