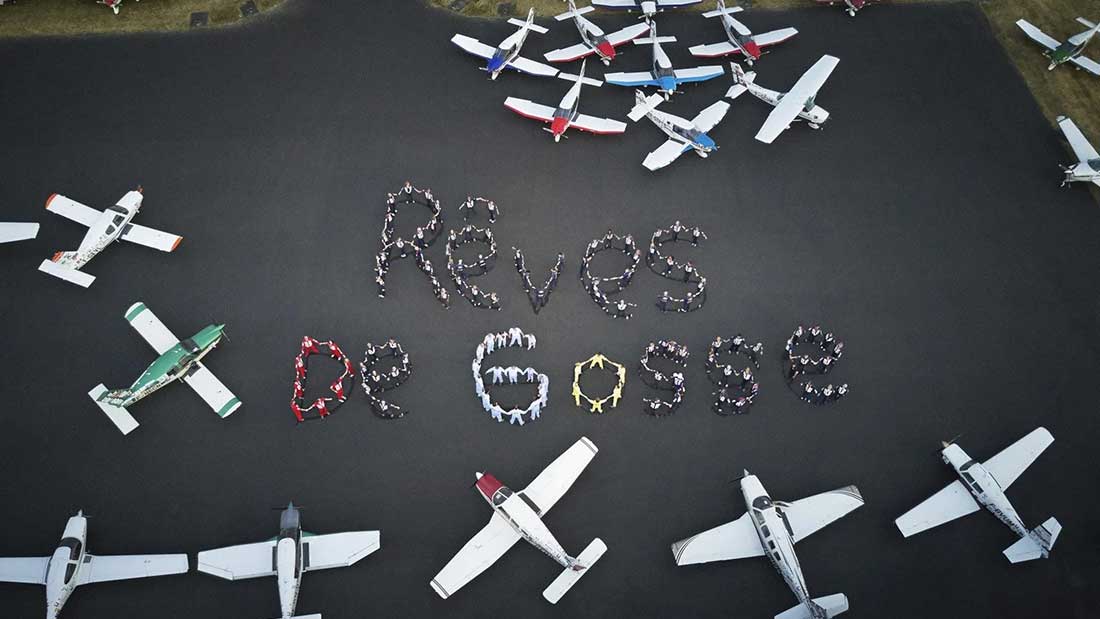 The flying engineer
In 2010, David Penen-Porthaux started his career at ELSYS Design as a power electronics engineer…
In 2018, he chose the air route, to become an airline pilot….
Last February, he contacted us to present a first flight project for "extraordinary" children, as part of the 2022 "Rêves de Gosse" (Kid's Dream) Tour, organized by the Chevaliers du Ciel (Sky Knights) association…
Immediately enthralled, we decided to help him with this project.
Let's listen to David share with us his atypical journey, this magnificent project, and his memories of ELSYS Design.
Photo credit: Rêves de Gosse
Q: David, was there anything that predestined you to become a pilot?
Almost nothing, I had no pilot in my close circle. The idea surely began to germinate around the age of 10-12, with my first video game, a flight simulator.
As a teenager, I then started to fly by ULM and paragliding, which my parents did not particularly like. But strangely, the profession of pilot did not seem accessible to me, while I had good results at school.
I liked electronics, so in 2003, I joined an engineering school, ESIEE Amiens.
Q: What did you study there?
I followed the preparatory classes cycle, then the "Electrical Energy and Sustainable Development" major. We were starting to talk about managing a network with wind turbines and photovoltaics, developing local decentralized production, etc.
I specialized in DC-DC power converters. I did my end-of-studies internship at Air Liquide where Christian Antonio, a former ELSYS Design employee, recommended the company to me.
Q: And you spent 3 years with us…
That's it. I was recruited by Anne Debras, my business manager at ELSYS Design, then I carried out two long projects as an electronic design engineer for major corporate accounts in the Paris region.
I had to leave the company for personal reasons (a relocation outside of the Paris Region), I continued my career in Brive-la-Gaillarde and Perpignan.
Q: And it was in Perpignan where everything changed?
That's it. I met people who were instructors at Aeropyrénées, an aviation school. They told me "If you like to fly, come". I got hooked immediately and decided to change my life in January 2018.
Q: Was it easy?
I must admit it was pretty scary. This meant putting an end to 5 years of study and 8 years of career to start again from scratch. But even if I still liked electronics, I think I needed to change for a project that was a little more "visceral".
Sometimes in life, you try things and it doesn't work. At that time, the planets aligned naturally, even the banks followed me to finance my training and pass the various licenses and certifications necessary to become a pilot.
Q: Is it a complete life change?
Yes, but that also brings me back to what I was doing before: aviation is changing, with strong technical challenges (the decarbonization of the sector).
And just for the anecdote, when I train pilots, I am in charge of teaching the module intended to give them the basics of a three-phase 115 V 400 Hz network, the one found in most commercial aircraft.
Power electronics, my first love, is never far away.
Q: What is "Rêves de Gosse"?
"Rêves de Gosse" is a project that brings together so-called "ordinary" children and so-called "extraordinary" children (with disabilities, hurt by life or illness, socially disadvantaged).
These children aged 6 to 14 meet throughout the school year and the outcome of this educational project is a first flight. We will stop in different cities in France.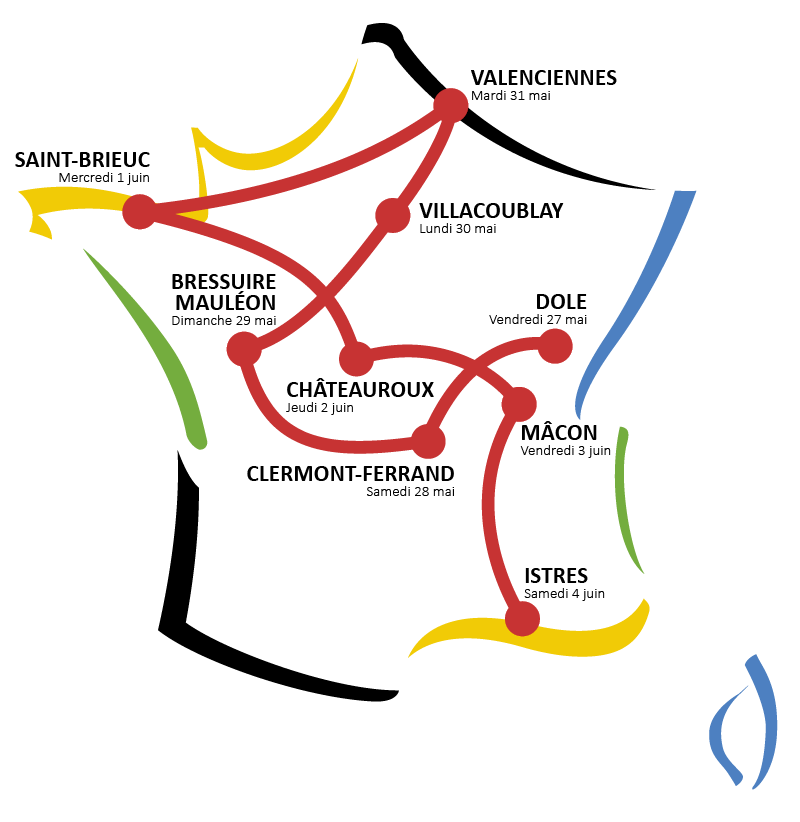 Q: This is where your crew comes in…
That's it. The flights are carried out thanks to volunteer crews, who will travel from stage to stage during the "Rêves de Gosse" aerial tour.
Ours, "The Lamplighters" ("Les allumeurs de réverbères", in reference to the Little Prince), is made up of Florent Caire, airline pilot at Air Caraïbes, and two instructors at Aéropyrénées, François Cormi and myself.
We will fly on a Piper PA 28, a modern four-seater aircraft equipped with a 200 hp engine that cruises at a speed of 120 knots, or 215 km/h.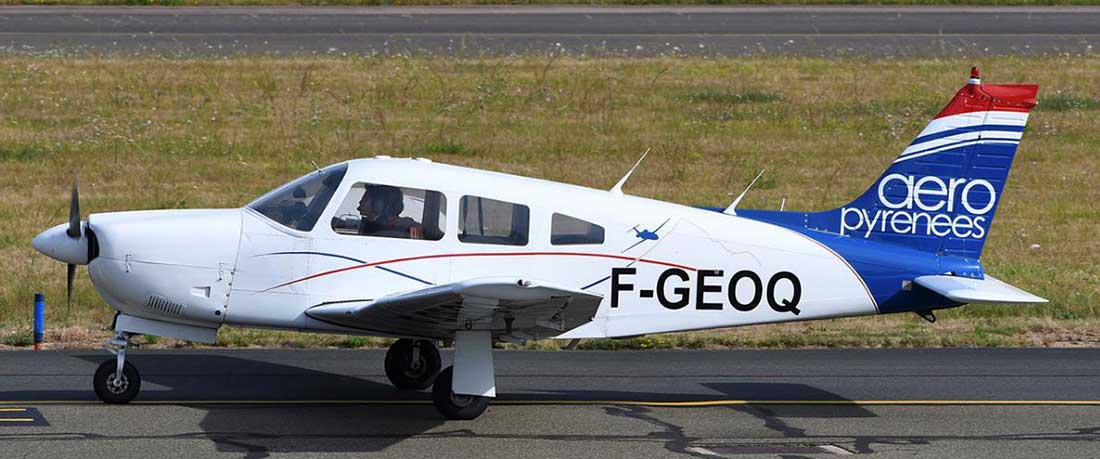 Q: What do you like about flying?
Today there are fewer and fewer places where you can feel so free. We make movements in 3 dimensions, in almost infinite spaces, it's magic.
I also love to see the wonder in the eyes of the people who accompany us.
Finally, I like sharing skills with students. Once they are ready, you give them the controls: it's a huge responsibility that you pass on to them, but also a very nice mark of trust. Because up there, someone's limits appear right away, you can't cheat.
In aviation, I love this idea of ​​sharing, of altruism. I met passionate people, with incredible careers rich in thousands of flight hours and who humbly share with you.
I had also met several people of this type at ELSYS Design, for example, Loïc Aoustin, or with its clients, for example, Jean-Marc Etting.
Q: We found your project magnificent and are very happy to participate in its financing. To conclude, could you tell us a word about ELSYS Design?
ELSYS Design, you were the first to trust me. I worked for two great clients, on great projects, I had a great time and that's where I met the people most involved in their profession.
ELSYS Design is a great springboard for young people, but you can also stay there to build a career. I like the idea of ​​working on several projects, it allows you to look for yourself and find what you like.
I have excellent memories of my time at ELSYS Design, it was a great experience, and I am therefore delighted to wear the company logo as well as those of ADVANS Group, AViSTO, and MECAGINE on the cabin of our aircraft.