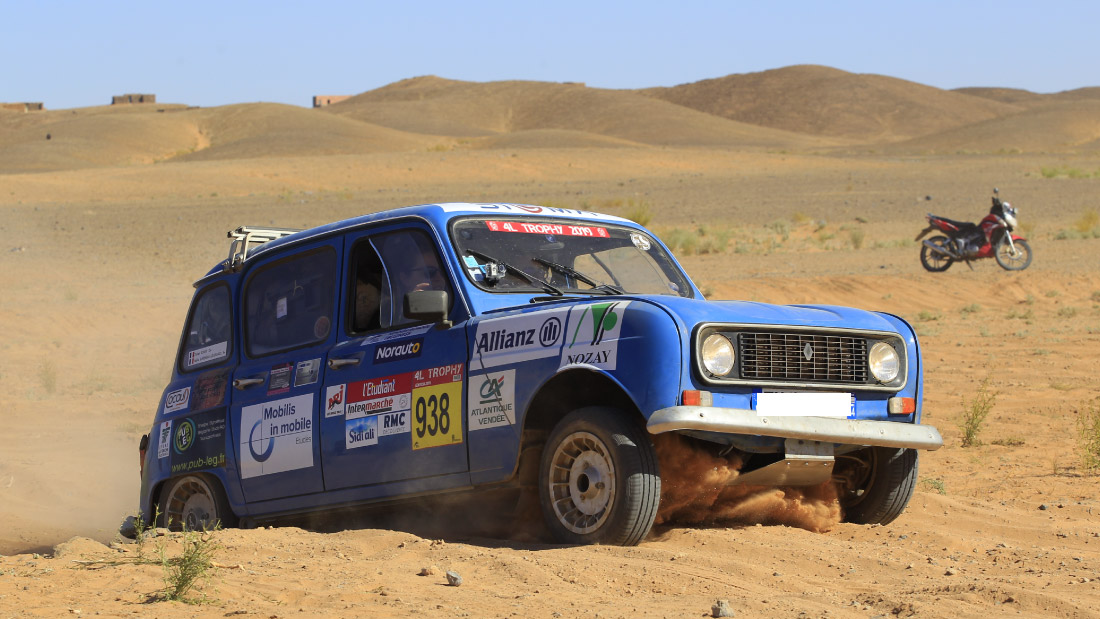 Going to Belgrade in 4L
Julien made his end-of-studies internship in Rennes, on a connected obstacle project. A few hours after his oral defense, he hit the road to ELSYS Eastern Europe… in 4L, the famous car produced by the French automaker Renault between 1961 and 1994. He shares with us his experience.
I was a little surprised when Philippe Laurent – the France western agency manager – told me that a future ELSYS Design engineer went to Belgrade in 4L. First, why Serbia, can you explain?
In order to validate my diploma from INSA engineering school, I had to spend two months abroad. Philippe discussed this matter with Sasa Kostic – the ADVANS Group Serbia regional director – and he kindly offered to welcome me in Belgrade.
And why in 4L? From Rennes, it is a 2 200 km journey after all!
I had a beautiful experience this year when my girlfriend and I participated in the 4L Trophy. It is an automobile solidarity raid intended for students. We brought school supplies gathered by students from a High School in Ploërmel in the Morbihan region that we distributed to children in the Errachidia province in Morocco. To do so, we travelled 6 000 km, we crossed the desert, it was fantastic. At the end of this journey, I kept the car.
When did you leave for Belgrade?
On Monday September 2nd, around noon, just after my oral defense. I crossed Italy, Slovenia, Croatia, then Serbia. I arrived without any problems, unlike my trip during the 4L Trophy when I had some trouble with the car.
Hitting the road at the end of your studies, it seems kind of an initiatory journey…
Yes, definitively. Just for fun, I bought a European map to plot every road that I took this year, and there are a lot of them! Between my trip to Morocco and the one to Belgrade, I have seen beautiful things.
I drove towards Belgrade without pressure and I stopped when I wanted to visit. I had my mattress at the back of the car so even at night, I didn't have to think about booking a hotel room for instance. This allowed me to enjoy landscapes, to observe people in their daily life and to exchange with them. It was easy thanks to the car.
Did people approach you?
All the time. Having a 4L, plus one which is decorated as for the 4L Trophy enables to start conversations easily. The car is constantly being photographed. And it opens doors, literally and metaphorically.
Meaning what?
During my first day at ELSYS Eastern Europe, I told to my new colleagues that I had parked in the parking lot. They were surprised because normally visitors don't have access to this area. In fact, when the security guards saw the car, they were very enthusiastic. Then, I just had to tell them that I came to ELSYS EE and they opened the gates…
What are your impressions about Belgrade?
I like the city, I think it is vibrant and pleasant, plus I arrived after the heavy summer heats. Regarding the weather I can't feel homesick: yesterday we had a drizzly day and today it is greyness, a typical Breton weather!
Mid-September I started to work on an embedded Linux project and I was well received within Aleksandar team. Everything is going well, the atmosphere is really nice, as it is in France actually! I am going to stay here until the end of October.
Are you worried about your comeback to France?
Not at all! This experience is going to an end and I am going to move on. I am really glad to start at ELSYS Design with a permanent contract.